Professional Crate Services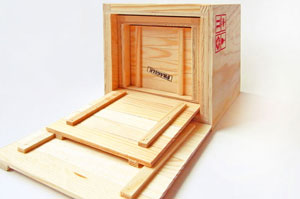 Whether you're moving or shipping, sometimes you simply have to use a crating service. Sure, cardboard boxes have their place, but for many items that are large, bulky, fragile, or oddly shaped you'll need something more than a basic cardboard box. That's where our professional shipping and crating service can help. Our team of experts have experience in crating the largest or most uniquely shaped items, and will do so in a manner that ensures they are safe during a move or during shipping.
Our crating services are perfect for a number of different situations, including the following:
Overseas shipping
National shipping
Large or oddly shaped items
Multiple items in the same crate
Added protection for valuable, fragile items
And more
No matter if you're moving and want to crate a few important items or are shipping something overseas, we can help. At Christian Brothers Moving and Storage, our crating team treats our clients with the highest level of respect and offers the best services. Our team will do all they can to help you, including:
Packing Properly – Making sure that everything packed into the crate is fully protected is very important, and our team will ensure that all items are packed in a way that protects them from any physical damage.
Regulations – Different countries have different regulations in terms of packing and shipping, and it's important that your items are packaged and labeled correctly. Our team fully understands all regulations and will help you avoid the hassles and stress of trying to handle this on your own.
Shipping – We can help with the shipping process as well. Instead of trying to use the postal service, our team can help you get the fast and accurate results you really need.
Protection – As with all of our services, our crating service is licensed and insured. That means that your items will be shipping correctly and protected during the process. You can rest easy when you crate with us.
When you need a crating service that you can depend on, Christian Brothers Moving and Storage is ready to help. We have years of experience in crating, and we also use eco-friendly, recycled, reusable crates whenever possible. It's just another reason that we stand out in the industry as one of the very best. Don't hesitate to contact us today to talk about your crating needs and discover all the different ways that our team can help you.